Direct Mail Marketing Examples
Thoughtful. Engaging. Response-driven.
If you dream of creating direct mail marketing campaigns that represent your business so well that the recipients of your mailings can't help but respond, call us. Our professional writers and graphic designers will present your message, your product or your mission in a way that compels people to take action.
By understanding your target audience, we craft messages that engage and we design graphics that demand attention.
Use direct mail to raise money, promote new products, increase sales and/or drive prospects to your website. From postcards with QR codes to multi-component mailers, we create direct mail pieces that spark the interest of the recipient.
business-to business direct mail
business-to-consumer direct mail
fundraising mailers
association and alumni mailers
invitations
event promotions
catalogs
postcards
Take a look at our samples of direct mail through this page. And call us to talk about your campaign!
Ask a Question or Get a Quote…
From Mailbox to Heartstrings: The Beauty of Nonprofit Letter Mailers
With Full Color Outer Envelope
Get attention with a full color envelope that communicates your message. The envelope shown includes an urgent plea and call to action that motivates recipients.
Unleashing Compassion: The Artistry Behind Full-Color Mailers
Donor Acquisition Mailer
The donor campaign shown was developed for Animal Friends. The design was created to embody the loving relationship between animals and their owners. Included in a full-color outer envelope was a letter with a tear-off reply, a full color brochure and a reply envelope.
From Mailbox to Inbox: Maximizing Donor Solicitations with Direct Mail and Email Campaigns
Full Color, 2-Sided, Personalized Letter & Email Follow-up Campaign
After conducting numerous interviews with stakeholders, we wrote and designed this personalized letter package for the Schizophrenia Society of Ontario. Personalization was included in multiple locations: the headline area, salutation, the body of the letter and the donation form.
We also created a matching email campaign that was used several times as a reminder. The email campaign had direct links to online donor forms.
Combining direct mail marketing with email marketing lifts response rates and moves donors to web-based donations. People respond in different ways – some want to receive mail, some want to go online. Give your donor base multiple ways to communicate with you and you'll find them giving more, and more often.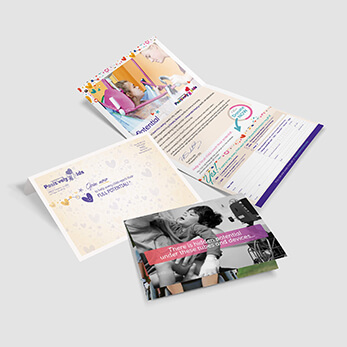 A Touch of Love: Thoughtfully Crafted Solicitations Transform Lives for Medically Vulnerable Children
Compelling Imagery Highlights This Camapign
A combination of black & white and color images visually guide the reader to recognize the potential in kids who need help.
The Fine Art of Giving: High-End Direct Mail Packages Redefine Fundraising
For Donors Over $1,000
Need to impress the top-level donors on your list? The campaign shown was designed with pearlized paper stocks and a die cut folder to distinguish the sending organization as a quality provider of services.
Unlocking Generosity: Letter-style Mailing Strategies for Higher Response Rates
Women's Edge Coalition Fundraiser
For non-profits, the goal is bringing in the dollars and elevating awareness. The example direct mail package shown includes a letter with tear-off response device, large outer envelope and postcards that the recipient can use to help spread the word.
The campaign was created efficiently to keep costs low and to get it into the mail stream as quickly as possible.
Inviting Success: Strategies for Effective Audience Targeting with Direct Mail Invitation-style Mailers
SEE International – Give the Gift of Sight Fundraising Campaign
The sample direct mail marketing fundraising example shown used an invitation style to warm-up the recipient. It's an eye-catching piece, directed precisely at the target audience. It's warm quality and beautiful design insist that you read on and donate now.
The Power of Palette: Attracting and Engaging Your Audience with Colorful Fundraiser Mailers
Animal Friends
The fundraiser shown is a catalog of items that donors can purchase to support Animal Friends.
Minimalist Marvels: The Art of Effective Postcard Mailers
Postcards are Simple. But so Effective.
With graphics that are impossible to ignore and low cost production, postcards could be the answer to your desire for increased sales. The postcards pictured are 6 x 11″ – large, visible, noticeable. And they mail at the lowest bulk mail rates.
Fast production for times when you need your message out quickly, postcards are efficient and deliver your message immediately – no wasted messages that never get opened.