Direct Axis is a Winner of Constant Contact's All Star Award for Email Marketing
The award is given to Constant Contact partners using these criteria: level of email campaigns, open and bounce rates, use of mail list sign-up tools, and use of reporting tools.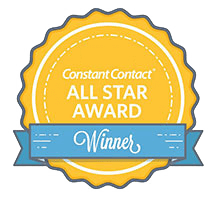 Using Constant Contact, we create and send targeted, professional email newsletters and promotions, new product announcements, event invitations, sales promotions, fundraising campaigns, and news releases.
In most cases, Direct Axis creates your initial email template, prepares your list, and puts email sign-up forms on your website. Once we've created your initial campaign, you can easily do it yourself.
See samples of Email Marketing Campaigns below.

We are a Certified Constant Contact Reseller. When you engage us to set up a Constant Contact account, you pay the same monthly amount as you would if you do it yourself. Use our experts and don't pay more!
Ask a Question or Get a Quote…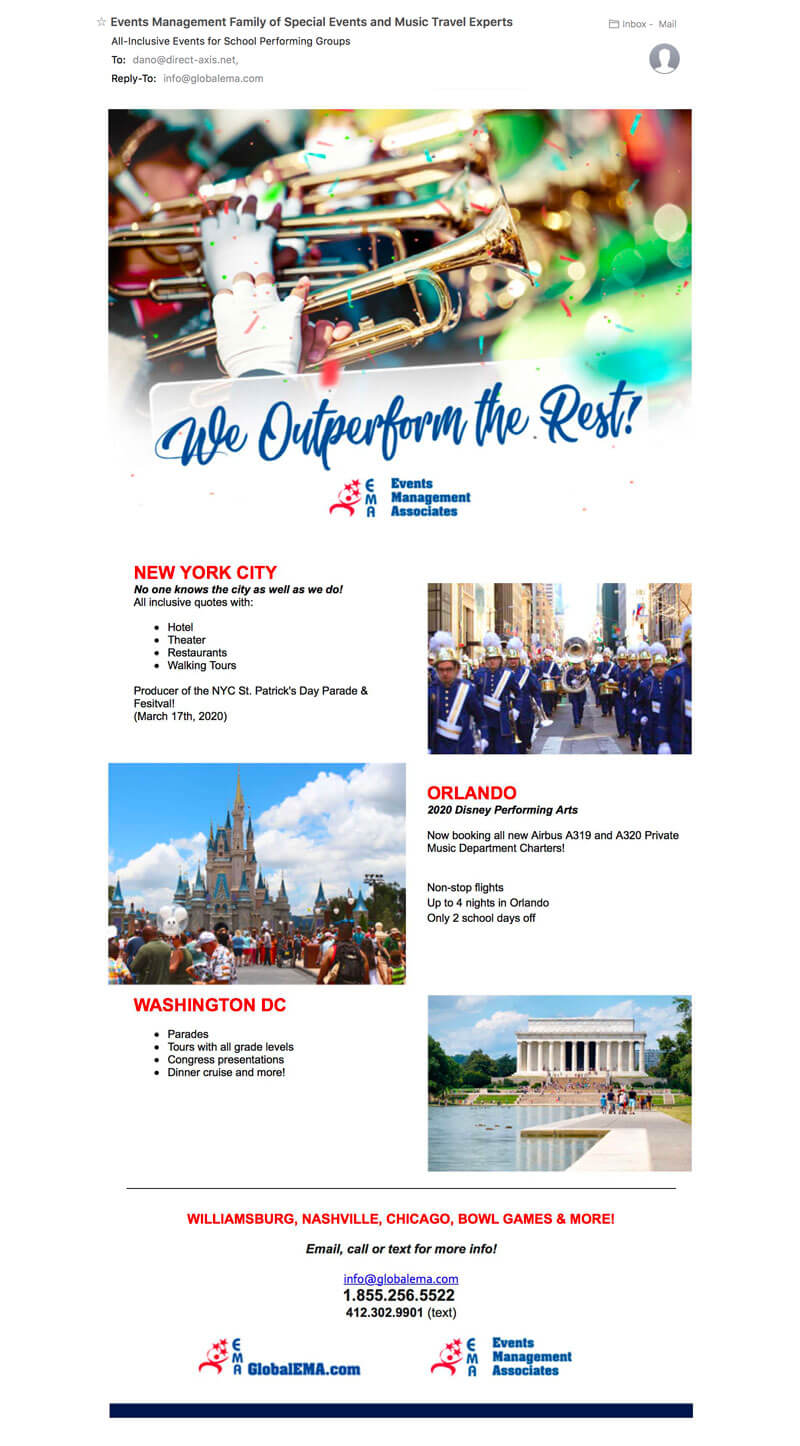 Benefits of Email Campaigns
Create and send great-looking email newsletters and promotions quickly
Save time and money vs. the cost of printing and mailing
Instantly know the Open Rates and Click Through Rates of your email
Build your list by collecting your web site visitor emails and interests
Features
Unsubscribe feature automatically included on every email
HTML and text formats
Reach your audience for less than 10% of the cost of direct mail marketing!
COMPARE COSTS – EMAIL vs. DIRECT MAIL
Email marketing is far lower in cost than direct mail. Compare the cost of sending 4 direct mail campaigns in one year vs. 4 email campaigns to 5,000 people:
Direct Mail:
Design costs $2,000
Print a letter, brochure, outer & reply envelopes – 4 campaigns of 5,000 pieces each, total 20,000 pieces $12,000
Lettershop – personalized mailing, sorting and delivery to the post office – $1,600
Postage, 20,000 pieces @.27 each, total $5,400
Total Direct Mail Cost = $21,000
Email Marketing:
Initial campaign set-up fees, including an initial template design – $1,250
Cost of Constant Contact yearly fee @ 5,000 names and addresses – $420
3 Additional campaign design fees – $300
Total Email Cost Only $1,970
Combine email marketing with print and web marketing for maximum effectiveness. Reach your audience in numerous ways. Some of your audience will respond to direct mail, others will only look at your email or website. Direct Axis creates solutions for that reach your audience at the lowest cost and highest response rates.