Medical Brochure Design, plus Postcards, Pocket Folders and Catalogs
Present an image of reliability and quality to your current or prospective patients or buyers with beautifully-designed medical brochures, postcards, pocket folders or catalogs.
If you are a supplier of medical technology, medical imaging, health care services or have business-to-business clients in the medical field, choose Direct Axis to make your communications noticeable.
We specialize in medical brochure design and production of print and web media for the healthcare industry.
Take a look at medical brochure design samples we've created for our clients.
Email or call us today, toll-free for a quote on your project. 1.800.849.3056
Ask a Question or Get a Quote…
Medical Instrument Catalog Design 
Shown is a 20-page catalog we designed for a Korean medical instrument manufacturer.
Hospital Brochures for Employee Recognition 
The brochure shown is used to acquire feedback from patients as well as to acquire new donors to the hospital foundation.
Managed Care Brochures for Clinics
We created a series of brochures for SynerMed. Each participating doctor was provided with an individualized brochure for their practice.
Health Care and Insurance Brochures
Used as Mailers and Hand-Outs
Inform patients and caregivers about your medical facility and capabilities. The brochure shown was designed for a pediatric physician. Individual brochures were created for each physician in the healtcare concern.
Medical Products Brochure
Imaging Equipment Brochure
Businesses in health care hire us to create capabilities brochures with graphic design that impresses and attracts new clients. This medical brochure was used to describe imaging equipment offerings for hospitals. The brochure is hand-delivered by sales representatives, sent via direct mail and given out at trade shows.
Capabilities Brochures for Health Concerns with Many Aligned Health Businesses
A consortium of 6 health care companies, TTG engaged our services to create the medical brochure design shown. The brochure describes the corporate structure and covers their diagnostic, equipment, nuclear medicine and other health care businesses.
Medical Products Catalogs
The catalog sample shown was designed using Philips' brand standards. Our graphic designers can follow your brand guidelines or create a unique new design for your catalogs.
Healthcare Pocket Folders
We create posters, billboards and pocket folders for healthcare businesses. Shown is an example of a Pocket Folder we created for a home healthcare agency. We also created a matching website.
Pediatrics Brochures
Specialized Design for a Children's Hospice Brochure
We created this brochure to blend the seriousness of the subject with the desire to allow children to be children. The brochure's message to parents is nurturing and caring while giving opportunity for happiness.


Dental Brochure Design
"Making Smiles for a Lifetime" Brochure
​A very happy and fun looking brochure design was used for a dentist's office.​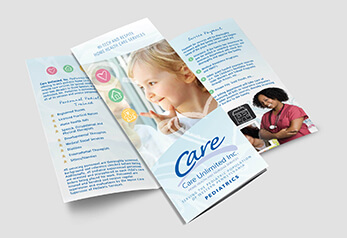 Home Health and Nursing Services Pediatric Brochure
We designed the pediatrics brochure above to attract families who need nursing services for their children.
Recruiting Brochures for Healthcare Operations
This retro-look brochure design was created for a Human Resources Department in a medical firm. The brochure included cash incentives for employees to help recruit qualified candidates.